Hockey is a fast-paced and dynamic sport that requires a wide range of physical and technical skills. Two of the most important skills for any hockey player are stickhandling and shooting. These skills require precision, speed, and agility, and can be the difference between winning and losing a game. Effective stickhandling allows players to move the puck quickly and accurately, while shooting accurately and with power can lead to more goals and more victories. Proper training and practice are essential for developing these skills, and investing time and effort into training can help players improve their overall game and reach their full potential. By mastering stickhandling and shooting, players can become more confident, versatile, and effective on the ice, making them valuable assets to any team.
Our Atomic Hockey Langley Training Facility features 4 Skills Lanes with workouts that are fast, fun and proven to improve the skills of each and every one of our students. 

Through repetition, progressive drills, and positive reinforcement, we strive to improve skating, stickhandling, accuracy, increase power, develop a quicker release, and master shooting techniques resulting in scoring more goals.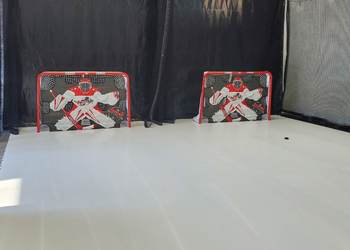 4 Skills Lanes
Our Facility features 4 oversized Skills Lanes, across 1600 SqFt, with all of the best Training Aids in the sport today, allowing players to work on all areas of their game emulating on-ice gameplay. Each lane is equipped with a regulation size hockey net, targets or shooter tooter. The lanes are designed to focus on multiple skills and situations, increasing puck touches and situational repetition.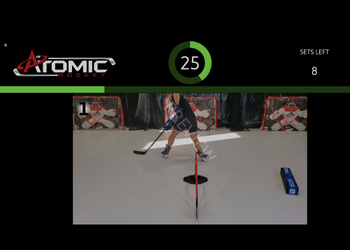 Technology
Our unique and exclusive technology fuses the training session with a streaming video demonstration of the drill with an interval timer. The digital displays ensure that our athletes don't get lost or confused about what they should be doing during the drill. They can remain confident that they are performing the drill in the correct way and our coaches can focus on providing the highest quality coaching of individual technique instead of drill correction.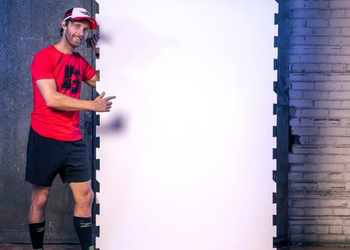 Max Stride Synthetic Ice
The Smoothest and Fastest Skating Synthetic Ice In the World! Equipped with HockeyShot First Stride Technology, it's like you're stepping onto a fresh sheet of the real stuff! If you're looking for slick, neat and silky, then Max Stride synthetic ice was formulated for you.
Small area practicing automatically reinforces major skills like skating, passing, puck control, and shooting, but they also help practice core concepts & habits of game play. For offensive players they encourage creating time and space by picking your head up and working with your teammates.
Skates, Gloves, Stick, Helmet, and Shin Pads. Please Remove Tape From Stick Prior To Entry. Subject to Change. 
Spring Skills Camps ~ April 3 to June 2
Minimum 4 Participants for Skills Camps. If we do not reach the minimum number of participants, we reserve the right to cancel the camp. If the camp is cancelled, you will have the choice to defer to another camp or receive a refund. Minimum 3 days notice will be provide in advance of the camp date.
**Note – All prices are subject to GST
U-11
Wednesdays
7 PM - 8 PM