December 26th to Friday January 5th
Welcome to Atomic Hockey, where we're revolutionizing the way athletes train. We're excited to announce the return of our Weekday Membership Program, designed to help you improve your skills, increase your strength, and elevate your game at times that work best for you.
With our Weekday Membership Program, you can book unlimited Skatemill sessions and Skills Area sessions throughout the week this summer.
Each hour offers three spots on the Skatemill and four spots in the Skills Area, ensuring an intimate and focused training experience.
Classes all begin on the hour and for a 1 hour duration.
Weekdays ~ Daily From 8am to 3pm.
Class Start Times: 8am, 9am, 10am, 11am, 12pm, 1pm, 2pm.
We can't wait for you to join us on this exciting new journey.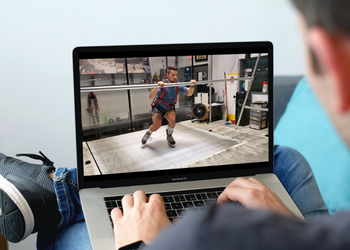 Skatemill Training
Our experienced coaches are all certified by AK Hockey and follow a comprehensive 25-phase curriculum that includes over 250+ drills of in-progression training. But that's not all – our skatemill is the only one in the region that features a shooting lane, allowing you to learn how to shoot in stride and perfect your technique while improving your skating ability. Our facility is fully equipped with the latest technology and amenities to ensure your comfort and convenience. We offer video analysis technology, allowing our coaches to provide valuable feedback and identify areas for improvement.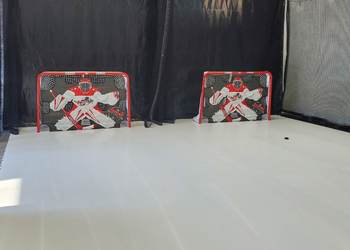 Skill Development
Our Facility features 4 oversized Skills Lanes, across 1800 SqFt, with all of the best Training Aids in the sport today, allowing players to work on all areas of their game emulating on-ice gameplay. Each lane is equipped with a regulation size hockey net, targets or shooter tooter. The lanes are designed to focus on multiple skills and situations, increasing puck touches and situational repetition.
The Skatemill is an ideal training tool for kids as well as experienced professionals, who are looking to easily and quickly improve their overall performance, skating technique, speed development, reflective power, endurance, and dynamics.
Small area practicing automatically reinforces major skills like skating, passing, puck control, and shooting, but they also help practice core concepts & habits of game play. For offensive players they encourage creating time and space by picking your head up and working with your teammates.
Skates, Gloves, Stick, Helmet, and Shin Pads. Please Remove Tape From Stick Prior To Entry. Subject to Change. 
**Notes**
Pricing and schedules are subject to change.
All prices are subject to GST.
We will only sell a limited number of memberships to preserve availability for our members.
We have a Late Cancellation & No-Show Policy in place to ensure that all our members have an equal opportunity to train. We kindly request members to cancel their booking at least 9 hours before the start time of their scheduled training session. Charges will be incurred for late cancellations and no-shows.
To Secure Your Spot Add Your Name To Our Waitlist Below.
Atomic Hockey reserves the right not to proceed with the Holidays Membership Program if the minimum number of entries is not met. We will take a $50 Non-Refundable Deposit with your Waitlist Entry ~ send your e-transfer to [email protected]. Should we not proceed with the Membership Program due to not enough entries, your deposit will be refunded in full.
Frequently Asked Questions
How many spots are available in each session?
We have 3 spots available per hour on the Skatemill and 4 spots per hour in the Skills Area.
Are there any restrictions on the types of sessions I can book with my membership?
No, all of our membership plans give you access to both Skatemill and Skills Area sessions.
Can I book more than one session in a day?
Yes, with our new membership plans, you have the flexibility to book unlimited sessions per day during the off-peak hours.
How far in advance can I book?
You can book a maximum 72hrs in advance. We copied similar membership rules as local gyms, whom we consulted in the process of implementing our program. 
How soon before a session can I book?
Due to restrictions from our booking software, you can book online no sooner than 12 hours but we have the ability to book you in manually if you call us at 778.366.8418.
Can I share my membership with a friend or family member?
No, memberships are non-transferable and can only be used by the registered member.
Am I locked into a long-term contract?
Our membership program is new so we are testing it out to see if it can be successful through July and August, thus it is just month to month.
Can I sign up for just 1 month?
Yes, you can but if you want to sign up for August, you will automatically be placed on our waitlist and priority will be given to those that purchase a membership for July.  We are only selling a limited number of memberships and you should lock in for both July and August to secure your spot.
How do I cancel a session I've booked?
You can cancel your bookings through our online system. Please ensure to do so at least 9 hours before the start of the session to avoid any cancellation charges.
Are there any additional charges for late cancellations or no-shows?
Yes, to ensure fair access to all members, we have implemented a Late Cancellation & No-Show Policy. If you fail to cancel a booking at least 12 hours in advance, you will incur a fee.
What happens if I don't pay the late cancellation or no-show fee?
Any outstanding late cancellation or no-show fees must be cleared before you can make any new bookings. Your account will be temporarily frozen until the charges are cleared.