Looking for something fun to do this spring break? How about for your next Pro-D Day? Join us at our hockey training facility for our fun filled camps that your kids won't want to be picked up from!
Our camps are perfect for hockey players of all ages and skill levels, and includes training sessions on our state-of-the-art skatemill as well as skills sessions to help you improve your stickhandling, shooting, and passing skills. Our experienced coaches will guide you through a comprehensive training regimen designed to help you take your game to the next level.
But that's not all – our camps are also a great opportunity to make new friends and have fun! You'll have the chance to meet other hockey players in the community and participate in fun games and activities.
So why spend your spring break or pro-d day sitting at home? Sign up for one of our camps today and take your hockey game to the next level! Spaces are limited, so be sure to reserve your spot today. We can't wait to see you there!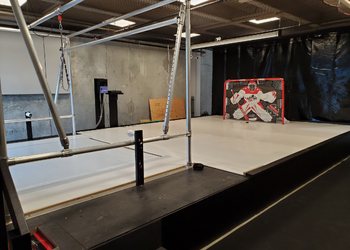 Skatemill
Often imitated but never duplicated, The Atomic hockey skatemill and curriculum is powered by AKHockey International. This is the only skatemill curriculum in the world with proven results for over 20 years from the beginner to NHL level. Our curriculum features multiple levels of in-progression drills leading to continuous development. No matter what skill level you are, we have a curriculum tailored to your skills and needs to elevate your skating to the next level.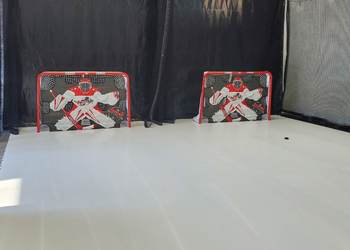 Skills Development
Our Facility features 4 oversized Skills Lanes, across 1600 SqFt, with all of the best Training Aids in the sport today, allowing players to work on all areas of their game emulating on-ice gameplay. Each lane is equipped with a regulation size hockey net, targets or shooter tooter. The lanes are designed to focus on multiple skills and situations, increasing puck touches and situational repetition.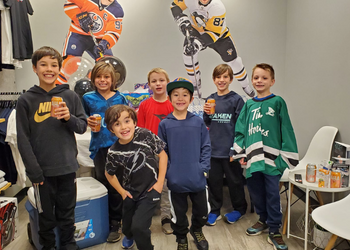 Fun! Fun! Fun!
Mixed in with the elite training is a core focus of making the whole experience fun. Hockey is meant to be enjoyed and if you want to foster growth, it starts by engaging the players in a fun environment that will make them want to lean into the training.
Our facility is just what you have been looking for and will allow you to not only meet your development but exceed it.
Minimum 8 Participants for Camps. If we do not reach the minimum number of participants, we reserve the right to cancel the camp. If the camp is cancelled, you will have the choice to defer to another camp or receive a refund. Minimum 3 days notice will be provide in advance of the camp date.
*Note – All prices are subject to GST
Frequently Asked Questions
What is the duration of the day camps?
Our day camps typically run for a full day, from morning to late afternoon. The exact schedule and duration may vary depending on the specific camp and age group.
What activities are included in the day camps?
Our day camps offer a variety of hockey-related activities, including a skatemill session, skill development drills, team-building exercises, conditioning, and educational sessions to enhance game understanding and tactics.
Are the day camps suitable for all skill levels?
Yes, our day camps cater to players of all skill levels, from beginners to advanced players. Our experienced coaches will provide instruction and guidance tailored to each participant's abilities, ensuring an inclusive and productive learning environment.
What age groups are the day camps designed for?
We offer day camps for various age groups, typically ranging from 6-12 yrs old. Each camp is designed to meet the specific developmental needs of the participants in that age range.
What should participants bring with them to the day camps?
Participants are generally required to bring their own hockey equipment, including skates, helmet, gloves, shinpads and a stick. We also recommend packing a water bottle, a snack, and appropriate clothing for all activities.
Will lunch and snacks be provided during the day camps?
We typically provide breaks for participants to have their own snacks and lunches. However, it is advisable to check with the specific camp details to see if any meals or snacks are included.
Are the day camps focused only on hockey skills, or are there other activities involved?
hile the primary focus of our day camps is on hockey skills and development, we also incorporate additional activities to enhance the overall experience. These may include team-building exercises, sportsmanship discussions, and educational sessions on sports nutrition and injury prevention.
Are the day camps supervised by qualified coaches?
Absolutely! Our day camps are led by our team of certified and experienced coaches. They bring a wealth of knowledge and expertise to provide a safe, structured, and engaging environment for all participants.
What safety measures are in place during the day camps?
The safety and well-being of our participants are of utmost importance to us. We have safety protocols in place, including qualified coaches, criminal record checks for vulnerable sector, first aid-trained staff, and adherence to local safety guidelines. We prioritize maintaining a safe environment for all participants.
Is it possible to register for multiple day camps or select specific dates that work for my schedule?
Yes, participants can typically register for multiple day camps based on their preferences and availability. We offer flexibility in selecting specific dates or multiple camps to accommodate individual schedules and interests.