Looking to take your hockey skills to the next level? Our hockey training facility offers combo sessions that include both our state-of-the-art skatemill and our comprehensive skills development program.
With our combo sessions, you can work on your skating, stickhandling, and shooting skills all in one convenient location. Our skatemill is the largest in the world and features a shooting lane, allowing you to learn how to shoot in stride like the pros. Our skills development program uses repetition, progressive drills, and positive reinforcement to help you improve your technique and game preparation. Our experienced coaches will work with you to create a personalized training program tailored to your individual needs and goals, ensuring you get the most out of every session.
Don't wait any longer to take your game to the next level. Contact us today to learn more about our combo sessions and availability. We can't wait to help you improve your skills and succeed on the ice!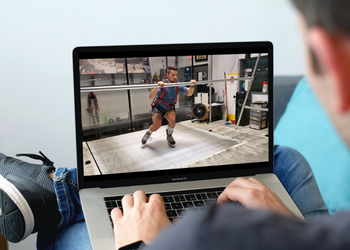 Proven Step By Step Curriculum
Often imitated but never duplicated, The Atomic hockey skatemill and curriculum is powered by AKHockey International. This is the only skatemill curriculum in the world with proven results for over 20 years from the beginner to NHL level. Our curriculum features multiple levels of in-progression drills leading to continuous development. No matter what skill level you are, we have a curriculum tailored to your skills and needs to elevate your skating to the next level.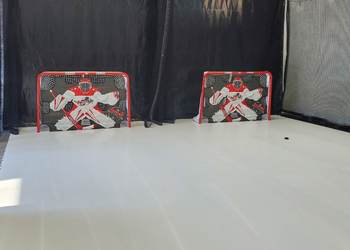 Skills Area
Our Facility features 4 oversized Skills Lanes, across 1800 SqFt, with all of the best Training Aids in the sport today, allowing players to work on all areas of their game emulating on-ice gameplay. Each lane is equipped with a regulation size hockey net, targets or shooter tooter. The lanes are designed to focus on multiple skills and situations, increasing puck touches and situational repetition.
Small area practicing automatically reinforces major skills like skating, passing, puck control, and shooting, but they also help practice core concepts & habits of game play. For offensive players they encourage creating time and space by picking your head up and working with your teammates.
Skates, Gloves, Stick, Helmet, and Shin Pads. Please Remove Tape From Stick Prior To Entry. Subject to Change. 
Pricing ~ Combo Private Skating & Skills Training
*Notes
All prices are subject to GST
We do not mix other athlete's into your session, the time you book is dedicated to your group.
Frequently Asked Questions
What is included in the skatemill and skills combo sessions?
The skatemill and skills combo sessions include a combination of the skatemill and skills area. Participants will have the opportunity to work on their skating technique on the skatemill then transition to our synthetic ice and work on stickhandling, shooting, and game tactics in a comprehensive training session.
How long are the skatemill and skills combo sessions?
The duration of the skatemill and skills combo sessions typically ranges from 1 to 2 hours, depending on the specific program. This allows for a balanced and effective training experience.
Do I need prior experience in skating or hockey to join the combo sessions?
The skatemill and skills combo sessions are designed to accommodate participants of various skill levels. Whether you are a beginner or an experienced player, our coaches will tailor the sessions to your individual needs and ensure a productive and enjoyable training environment.
Are the combo sessions suitable for all age groups?
Yes, the combo sessions are available for all age groups, including youth players and adults.
How often should I attend the combo sessions to see noticeable improvement?
Consistency is key to seeing improvement in your skills. We recommend attending the combo sessions regularly, ideally as per the suggested program or schedule provided by our coaches. This will ensure that you receive a progressive and structured training experience.
Can I track my progress during the combo sessions?
Yes, tracking progress is an essential aspect of our training programs. Our coaches will provide feedback, assess your development, and offer guidance on areas for improvement. This will help you monitor your progress and set goals for further advancement.
If booked with a friend, will I receive individualized attention in the combo sessions?
Absolutely! Our coaching staff is dedicated to providing individualized attention and support to each participant. They will work closely with you to address your specific needs, offer personalized feedback, and ensure you receive the guidance necessary to reach your goals.