Elevate Your Game, One Shot at a Time
Are you ready to take your hockey shooting skills to the next level? Our 8-Week Shooting Mastery Class is designed to transform you into a scoring machine. Whether you're a beginner looking to master the basics or a seasoned player aiming for precision, this class is your ticket to shooting excellence.
What You'll Learn
Wrist Shot: Discover the art of wrist shots. Develop pinpoint accuracy, a quick release, and the ability to pick corners with ease. Watch your wrist shot become a weapon of choice.
Slap Shot: Unleash the power of slap shots. From the blue line to the slot, you'll learn the mechanics behind the hardest shot in hockey. Crush pucks past the goalie and contribute from a distance.
Snap Shot: Master the snap shot for rapid-fire accuracy. Perfect your technique to surprise goalies with lightning-fast releases. Learn to shoot while in motion and catch the netminder off-guard.
Backhand Shot: Turn your backhand into a scoring asset. Develop finesse, control, and the ability to tuck pucks in tight spaces. Elevate your backhand game to leave goalies guessing.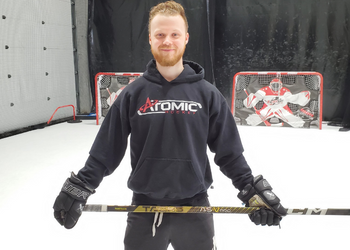 Expert Coaching
Our certified coaches bring years of experience to the rink. Receive personalized guidance and feedback to refine your skills.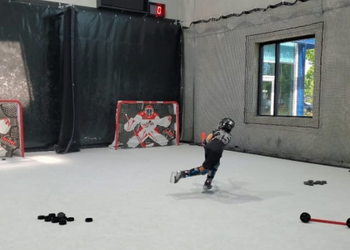 Comprehensive Drills
Work through a curated selection of drills that target each type of shot. Our progressive curriculum ensures steady improvement.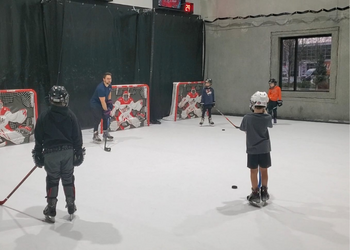 Small Class Size
Enjoy a low player-to-coach ratio for ample individual attention. You won't get lost in the crowd.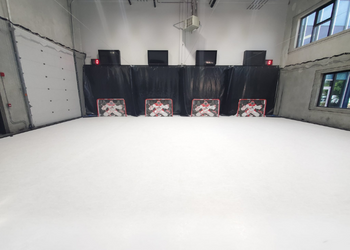 Large Dedicated Shooting Lanes
Experience our expansive 1,800 square feet of synthetic ice, offering a generous area measuring 50' by 36' in the Atomic Hockey Skills Zone. Each lane measuring just over 12' x 36'. Largest shooting lanes in BC.

The benefits of enrolling in our 8-Week Shooting Mastery Class extend far beyond the ice rink. By joining this intensive program, you'll gain not only the technical skills needed to become a formidable shooter but also a profound sense of confidence in your abilities. Each week, you'll delve into a different facet of shooting, honing your accuracy, power, and versatility. Our expert coaches provide personalized guidance, ensuring you receive the attention needed to fine-tune your technique. With video analysis, live practice, and a supportive learning environment, you'll quickly see improvements in your game. Whether you're vying for a spot on the top line or looking to outshine the competition in your next game, our Shooting Mastery Class empowers you to reach your full potential and make your mark on the scoreboard.
Skates, Gloves, Stick, Helmet, and Shin Pads. Please Remove Tape From Stick Prior To Entry. Subject to Change. 
Shooting Mastery 8 Week Program
Unlock your full potential on the ice with our 8-Week Shooting Mastery Course. Elevate your accuracy, power, and technique to score with confidence. Join us on the journey to becoming a precision marksman.
**Note – All prices are subject to GST
Refunds

– All registrations are non-refundable and transactions are final, unless cancellation insurance was purchased. No exceptions.
Cancellation Insurance ($25) – If, for any reason, you're unable to attend the

entire camp

you've registered for, whether due to injury, scheduling conflicts, or unforeseen circumstances, our Cancellation Insurance has you covered. You'll receive a full credit for the camp cost, minus the insurance fee. Please note that credits are exclusively available to those who purchase registration insurance. It's important to remember that Registration Insurance applies to the entire camp program and does not extend to individual classes or sessions. To be eligible for program cancellation coverage, any cancellations must be made at least 7 days prior to the program's start date
Missed Sessions/Pro-Rating Programs – At Atomic Hockey, we understand that life can sometimes throw unexpected surprises your way, making it difficult to attend a scheduled session. While we strive to provide flexible solutions, it's important to note that we typically do not pro-rate or offer discounts for planned missed sessions in the future. However, we're committed to working with you to find suitable alternatives. If you provide us with sufficient notice, we will make every effort to fill your missed session with another player. Should we succeed, we'll credit your account for future use. Additionally, if there's availability in another class during the same week, we'll explore the option of transferring you to that class. We take pride in offering some of the most price-friendly programs in the region, thanks to having our own facility. Even if you happen to miss a session or two, rest assured that you're still benefiting from significant cost savings compared to our competitors. Your hockey journey with us remains not only enriching but also budget-friendly.