Looking for all your hockey needs in one place? Look no further than our in-facility services!
We offer a wide range of products and services to help you gear up for the game. Our skate sharpening services will help you get the perfect edge, whether you need a quick touch-up or a full sharpening. And with a variety of laces, tape, and training aids, we have everything you need to stay prepared and perform your best on the ice.
Plus, with our selection of apparel and swag, you can show off your love for the game both on and off the ice. From hats to t-shirts and hoodies, we have a variety of styles to choose from.
At our in-facility services, we're dedicated to providing you with everything you need to stay prepared, perform your best, and look great while doing it. Stop by our facility today to check out our selection and take advantage of our services! Contact us to learn more about our products and services.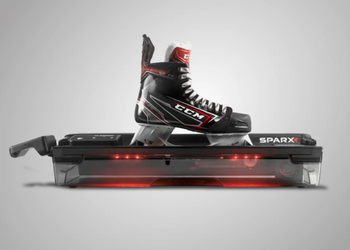 Skate Sharpening
If your skates are dull upon arriving or leaving, we have you covered with Skate Sharpening at highly competitive rates. We have a variety of depths so you can sharpen for synthetic or be ready to go on to the ice.
Laces, Tape, and Odds n Ends
Tape warn out on your stick? Break a lace in practice? Not to worry, we are a Howies Vendor and have everything you need to get you back up skating or shooting.
Training Aids
Take advantage of our HockeyShot partnership with killer deals on training aids all ready for carry out. No out of stock notices, be ready to continue your training at home.
Apparel
Check out our sick threads that includes T-Shirts, Hoodies, and Hats. Let others know that you are putting in the time at BC's #1 Training Facility.
We have everything you need to look great on and off the ice!