Are you looking to take your team's hockey skills to the next level? Look no further than our hockey training facility! Our whole team training packages are designed to improve your team's skating, stickhandling, and shooting skills using our state-of-the-art skatemill and skills area.
Our experienced coaches will guide your team through a comprehensive training regimen designed to improve your team's overall performance on the ice. Our skatemill is perfect for improving your team's skating ability, helping them develop speed, power, and agility. Our skills area is equipped with the latest training tools and resources, including stickhandling, shooting, and passing aids, to help your team improve their technical skills.
Our facility is also fully equipped with video analysis technology, allowing our coaches to provide valuable feedback and identify areas for improvement. Plus, our training facility features 4 large TV screens strategically placed to assist in training sessions. Each screen plays a looped demonstration of different drills and exercises with an interval timer, allowing players to visualize and perfect their technique while staying on track with their training schedule.
So why settle for mediocre team performance on the ice? Book your team's training sessions at our hockey training facility and watch your team's performance improve before your eyes! Contact us today to learn more about our whole team training packages and availability. We can't wait to help your team reach their full potential on the ice!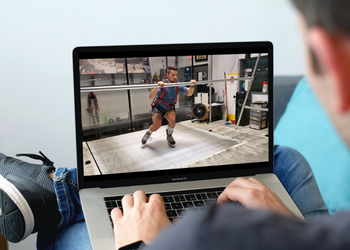 Proven Step-By-Step Skatemill Curriculum
Often imitated but never duplicated, The Atomic hockey skatemill and curriculum is powered by AKHockey International. This is the only skatemill curriculum in the world with proven results for over 20 years from the beginner to NHL level. Our curriculum features multiple levels of in-progression drills leading to continuous development. No matter what skill level you are, we have a curriculum tailored to your skills and needs to elevate your skating to the next level.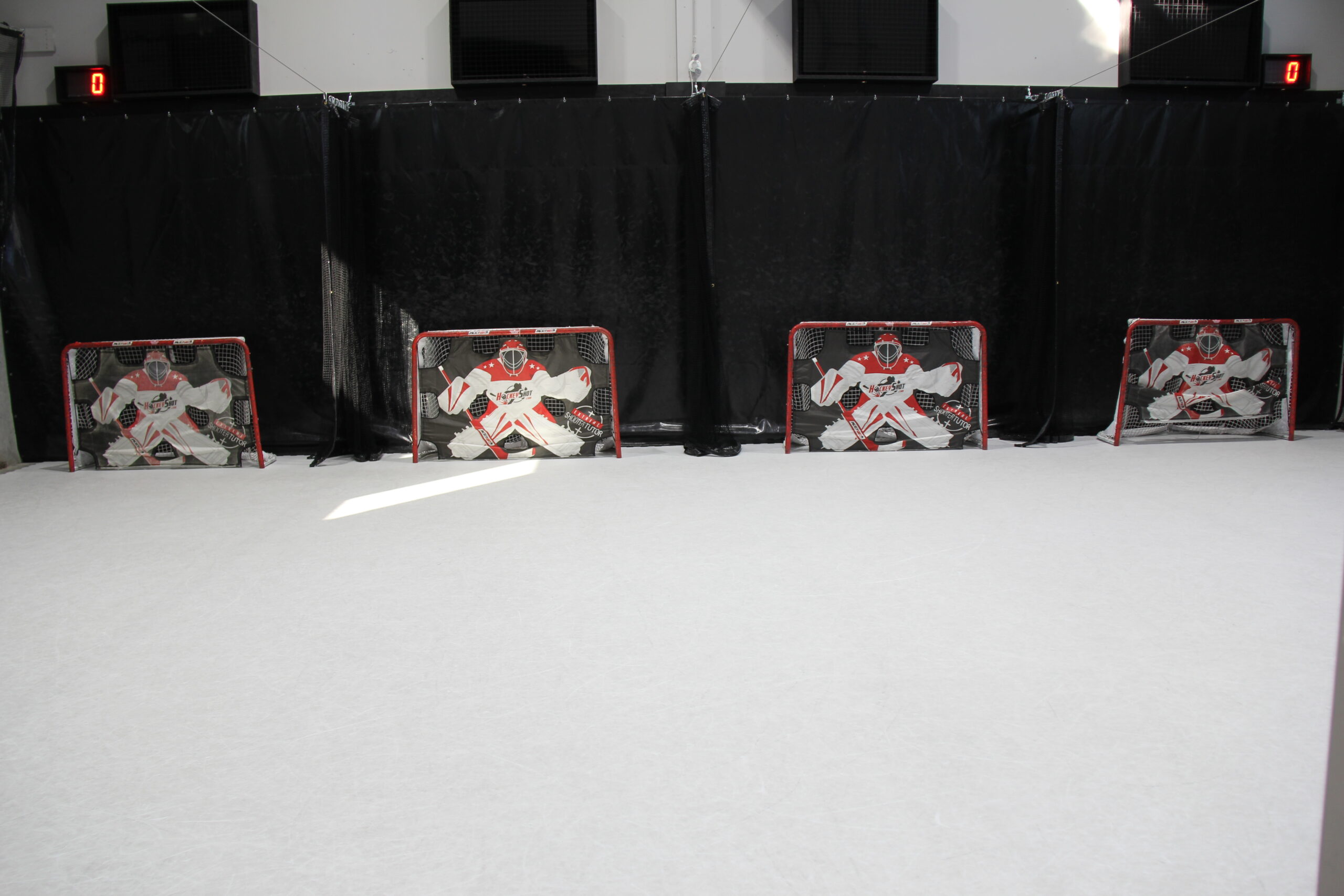 Skills Area
Our Facility features 4 oversized Skills Lanes, across 1800 SqFt, with all of the best Training Aids in the sport today, allowing players to work on all areas of their game emulating on-ice gameplay. Each lane is equipped with a regulation size hockey net, targets or shooter tooter. The lanes are designed to focus on multiple skills and situations, increasing puck touches and situational repetition.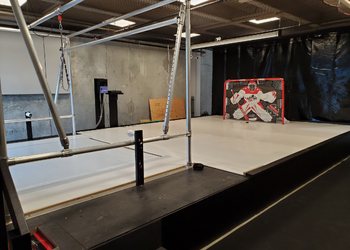 Skatemill + Skills Development Practice
We have 1hr sessions designed for teams using both our Skatemill and Skills Lanes. We work 3-4 skaters through the Skatemill while the rest of the team practices their Skills guided by 2 Atomic Hockey Coaches.
Our facility is just what you have been looking for and will allow you to not only meet your development but exceed it.
Skates, Gloves, Stick, Helmet, and Shin Pads. Please Remove Tape From Stick Prior To Entry. Subject to Change. 
Frequently Asked Questions
What is the duration and frequency of team training sessions?
The duration and frequency of team training sessions can be customized based on the needs and preferences of the team. We offer flexible options, including weekly or bi-weekly sessions, with each session typically lasting 1 to 2 hours.
Can team training sessions be tailored to specific skill levels or age groups?
Absolutely! Our team training sessions can be tailored to accommodate teams of all skill levels and age groups, from youth teams to adult leagues. Our experienced coaches will design drills and exercises that align with the team's abilities and goals.
What areas of the game does team training focus on?
Our team training sessions cover a wide range of hockey skills, including skating technique, stickhandling, shooting, passing, game tactics, and conditioning. Our experienced coaches tailor the sessions to address the specific needs and goals of the participants.
Are team training sessions suitable for both competitive and recreational teams?
Yes, our team training sessions are designed to benefit teams across all levels of competition, from recreational teams to rep teams. We customize the training to meet the specific needs and goals of each team, regardless of their level of play.
Can team training sessions be scheduled outside of regular practice times?
Yes, we offer flexibility in scheduling team training sessions to accommodate teams' specific practice schedules. Our goal is to provide additional specialized training that complements the team's existing practice routine.
Are the team training sessions led by qualified coaches?
Absolutely! Our team training sessions are led by our experienced and certified coaches who have extensive knowledge of the game and coaching expertise. They will work closely with the team to improve skills, tactics, and overall performance.
Can we bring our own coaches?
Yes, you can bring your own coaches for the Skills Session on the synthetic ice.
Can team training sessions focus on specific areas of weakness or team goals?
Certainly! We can tailor team training sessions to address specific areas of weakness or target specific team goals. Whether it's improving defensive skills, enhancing offensive skills, or working on skating, our coaches will develop a training plan that aligns with the team's objectives.
Can team training sessions include off-ice conditioning and team-building activities?
Yes, we can incorporate off-ice conditioning and team-building activities as part of the team training sessions. These activities help improve fitness, foster team camaraderie, and enhance overall team dynamics both on and off the ice.
What are the costs associated with team training sessions?
The costs of team training sessions may vary depending on the duration, frequency, and specific requirements of each team. We offer flexible packages and pricing options tailored to the team's needs. Our team will provide detailed information on costs and assist in finding a suitable plan within the team's budget.