At Atomic Hockey, we are dedicated to providing top-notch on-ice training and development opportunities for aspiring hockey players of all ages and skill levels. Our On-Ice Hockey Camps are designed to enhance players' skills, knowledge, and overall performance in a dynamic and supportive environment.
Join us for an unforgettable experience where players will receive professional coaching from our expert staff who have a wealth of experience in the game. Our camps focus on key areas of the game, including skating, stickhandling, shooting, game strategy, and more. With a comprehensive curriculum tailored to each age group, players will benefit from targeted instruction and progressive drills to accelerate their growth and success on the ice.
During our On-Ice Hockey Camps, players will have the opportunity to:
Improve Skating Technique: Enhance speed, agility, balance, and stride efficiency through specialized skating drills and techniques.
Develop Stickhandling Skills: Master puck control, dangles, and deceptive moves to outmaneuver opponents and create scoring opportunities.
Enhance Shooting Accuracy and Power: Hone shooting techniques, work on release speed, and improve shot accuracy for a deadly scoring touch.
Learn Game Strategy: Understand the tactical aspects of the game, including positioning, offensive and defensive systems, and situational awareness.
Experience Competitive Game Play: Engage in controlled scrimmage sessions and game simulations to apply learned skills in real-game situations.
Our On-Ice Hockey Camps are not only focused on skill development but also foster a positive and fun learning environment where players can build confidence, teamwork, and a love for the game. Whether you're a beginner or an advanced player, our camps are designed to challenge and inspire you to reach your full potential.
Join us at Atomic Hockey and take your game to new heights. Register for our On-Ice Hockey Camps today and embark on a transformative hockey journey!
Please note that our On-Ice Hockey Camps have limited availability, so be sure to secure your spot early.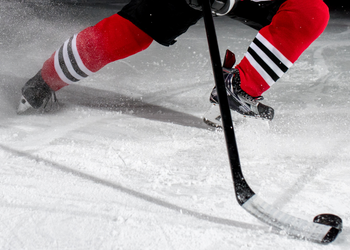 Edge Work
Edge work is the base for all skating skills. Areas we focus on: inside edges, outside edges and flats. We work to develop power, increased speed and turning ability.
Stride Extension
Hockey continues to get faster and the difference can be attributed to a great stride extension. Areas we focus on: stride extension, stride angle, arm swing, knee drive, and recovery.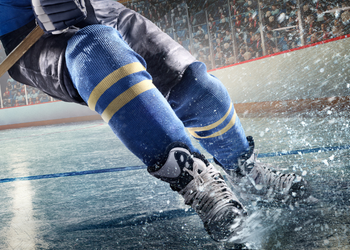 Crossovers
Change of directions can be life or death and it all starts with crossovers. Areas we focus on: maintaining posture, head placement, hip movement, using inside and outside edges, and puck control.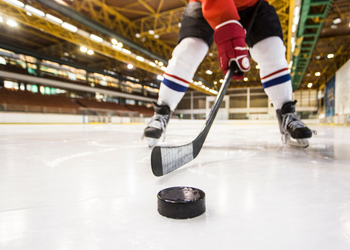 Stickhandling & Puck Control
As players get bigger, the space you have to operate gets smaller. Moving in and out of these areas can be challenging and getting into a place where you can shoot can be even harder. Areas we focus on: range of motion, creativity, agility, puck protection, deception, and change of skate pace.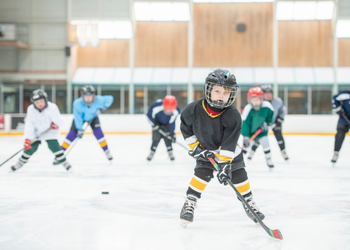 Passing
You know what's better than scoring? A great assist and it starts with great passing. There are a wide range of passes that a player can utilize during a game such as Saucer Pass, Backhand Pass, Drop Pass, Tic-Tac-Toe Pass, No-Look Pass, Centering/Slot Pass, Stretch Pass, Cross-Ice Pass, and more. Areas we focus on: puck control, using different parts and sides of the stick blade, puck release, follow through, and receiving a pass.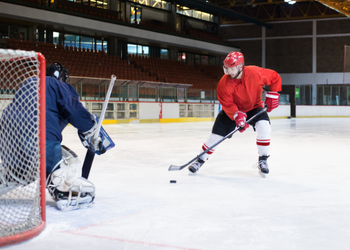 Shooting
Few are born with a great shot and it takes years and thousands of pucks to become the next Ovechkin. We will teach you to master the Wrist Shot, Snapshot, Slapshot, Backhand Shot, and Deflections/Redirections. Areas we focus on: improving power, mastering release, honing accuracy, changing shooting angles, and when to use what shot - high percentage shooting.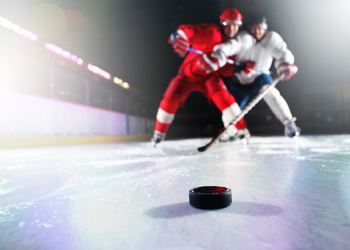 Tactics
The game continues to evolve and your skills have to evolve with it. Areas we focus on: forecheck, neutral zone, trap/forecheck, offensive pressure, defensive pressure, offensive/defensive strategy, penalty kill, powerplay, breakouts, and more...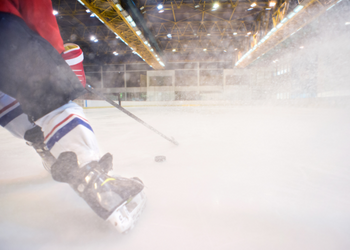 Conditioning
Conditioning can be worked on off the ice but at some point it needs to be transitioned and applied on ice. We work to bridge that gap with our programs. Areas we focus on: short, explosive bursts of speed, rest-to-work ratio, and conserving energy.
The On-Ice program is the culmination of all the work we do off-ice in the facility and bringing on to the ice and applying it to your game.